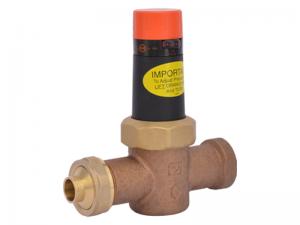 EB25 Single-Cartridge Pressure Regulating Valve
The EB25 adjustable water pressure regulator provides state-of-the-art water control to residential and commercial applications. The simple numerical indicator allows the desired pressure to be set with precision, even before the water pressure regulator valve is installed, making adjustments easy and simple.
Available for potable applications, our lead-free commercial and home water pressure regulator has the most advanced design in the industry.
Features and benefits:
Rock-steady outflow even with extreme variations in supply pressure.
Patented single-cartridge design that has fewer parts for increased reliability.
Easily adjustable cartridge that can be serviced without removing the valve body.
Innovative "micro-fingers" that dissipate noise as water flows across the seat, eliminating water whistle or harmonic hum associated with most water pressure regulating valves.
The adjustable water pressure regulator comes factory set at 45 psi but can be manually set to between 20 and 90 psi.