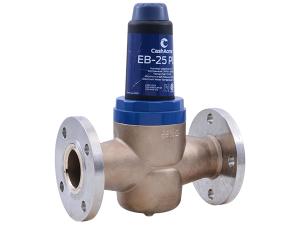 The EB25 Plus brings state-of-the-art water control technology to pressure regulators. The accurate flow control and pressure regulation of the EB25 Plus eliminates the need for costly multi-valve installation, such as high-low valves installed in parallel to meet varying flow requirements or multi-valves installed in series to reduce high inlet pressures to desired line pressure.
The EB25 Plus is a lead-free product. It is designed to service commercial and institutional water installations that experience wide variation in water demand or for applications where there are high inlet pressures. The valve is available in 2-1/2 in., 3 in., and 4 in. sizes, all with flanged connections. The valve is factory set at 55 psi and ranges from 30-85 psi.
Features and benefits:
Single cartridge design.
Flanged connections.
Dezincification resistant gunmetal alloy body.
10:1 pressure reduction capacity.
Withstand temperatures between 33° F and 149° F.
Install in any position – vertical, horizontal, upwards, inverted or any other desired orientation.  
Servicing can be performed with the valve body in place and only takes a few minutes.