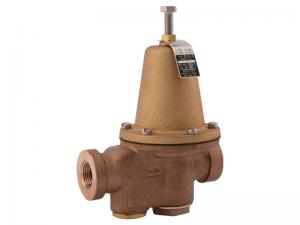 E3 Pressure Regulating Valve
 The Cash Acme E3 Pressure Reducing and Regulating Valve automatically reduces a high inlet pressure to a lower delivery pressure and maintains the lower pressure within acceptable limits. The valve provides substantially higher capacity and closer regulation for more demanding and higher quality installations. The Cash Acme E3 incorporates a yoke-type design, allowing the regulator to close against the inlet pressure and provide quieter operation under wide and varying flow conditions.
The E3 is designed for use where supply line inlet pressure does not exceed 300 psi and is suitable for either cold or hot (to 180°F) water service for a variety of applications. The Cash Acme E3 is set at 45 psi and comes with an adjustable spring range of 20-70 psi. Low pressure (10-40 psi) and high pressure (71-150 psi) settings are also available.