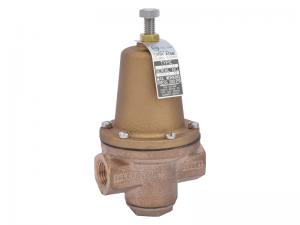 E41 Pressure Regulating Valve
 The Cash Acme E41 Pressure Reducing and Regulating Valve automatically reduces a high inlet pressure to a lower delivery pressure and maintains the lower pressure within acceptable limits. The valve provides high capacity and close regulation for more demanding and higher quality installations. The E41 is similar in internal design to the E3 regulator with the exception that it is not fitted with an inbuilt strainer for systems which do not require the feature, or where separate individual strainers are preferred.
The E41 is suitable for installation in domestic water supply lines (after the meter) in systems where inlet pressures do not exceed 300 psi and where system temperatures do not exceed 180°F. The E41 is set at 45 psi and comes with an adjustable spring range of 20-70 psi. Low pressure (10-40 psi) and high pressure (71-150 psi) settings are also available.