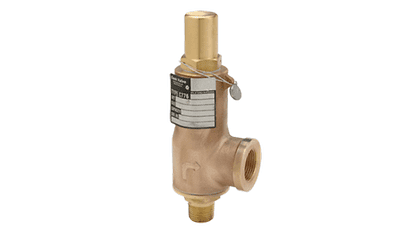 CASH VALVE TYPE C-776 SAFETY VALVES
A full lift ASME Section VIII air/gas and cryogenic, UV National Board certified
safety valve suitable for cryogenic service
FEATURES
• Ideal for cryogenic service to -320°F (-195°C).
• Kel-F® soft seat disc ensures positive
reseating and leak tight seal.
• Full lift maximum discharge capacity.
• Unobstructed flow through top guided design.
• Pressure tight dome.
• Stainless steel springs as standard. Inconel®
springs supplied for higher pressures.
• All parts are commercially cleaned for oxygen
service.
• Built to ASME Code Section VIII for cryogenic
service.
• Rated capacity: 110% of set pressure.